Why use hose reels? Because they make hose handling more efficient and safer. Your hoses,cables and cords will last up to five times longer. You will improve hose management, which decreases labor costs.
Superreel inventories a wide variety of hose reels for common applications like general purpose air and water, petroleum products, hydraulic,oxygen/acetylene,breathing air and rescue equipment. Special lengths, fittings and custom application assemblies are also available.
●Various drive types –Manual crank, motorized, spring drive, hand-over-hand and more.
●Wide range of pressures– from 50 to 10000 PSI and beyond.
●Our materials – Steel, Stainless steel,Aluminium...
●Custom built reels
●No minimum quantities
How do i get the right reels?
1) The first thing to consider is what kind of hose or cable you will be using. Size, length, bend radius, and type are critical when it comes to purchasing the correct reel for the job.
2) Do You Need a Storage or Live Reel?
3) How and Where Will the Reel Be Used? Rewind type, mounting positions, and roller options will determine which reel model will best fit your needs.
Rewind options are available for manual, spring, electric, air or hydraulic rewinds.
Reels can be floor-, ceiling-, wall-, cabinet- or truck- mounted and optional roller packages are available to help guide hose easily back on to the reel from any position.
4) If you cannot find exactly what you are looking for, you can email us at sales@superreel.com and we'll help you find the right reel.
OUR CAPABILITIES
● Ultra-high pressure and high current, the highest pressure of gas and liquid up to 80-100MPA. Taking advantage of the National New Energy Policy, the maximum current of the DC charging reel can reach to 500A.
● Super-long. Spring-driven reels can handle hoses or cables up to 50 meters. Motor-driven reels' capacity up to 3000 meters.
● Engineering reciprocation. One of the few domestic manufacturers that can produce reciprocating hose reels and multi-line hydraulic reels.
● Smart reels with intelligent functions. Limit, feedback, measurement, remote control, APP control, adaptive control and other functions are used in our reels.
● Hose and cable combined reels. One reel can manage/ transmit media including acousto-optic signals, various gas-liquid media, etc, at the same time.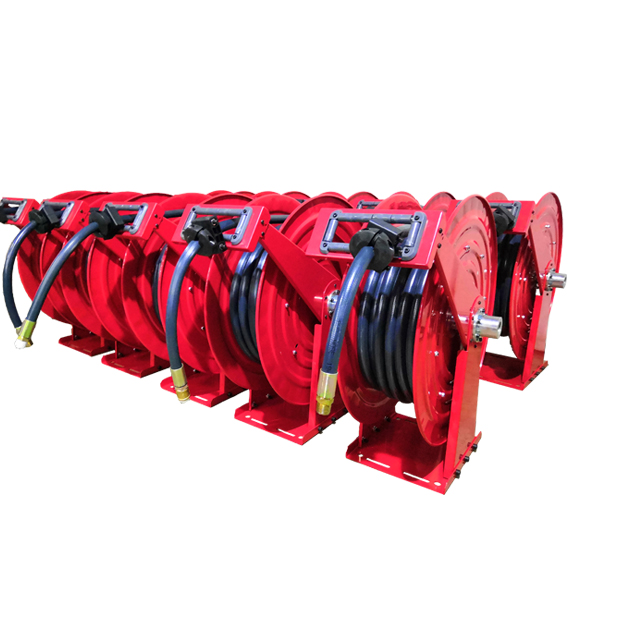 Superreel has been committed to designing and providing the world with the most durable and well-engineered reels in the industry. We offers thousands of standard hose reel, cord reel and cable reel models, also our custom department is on the forefront of design capability, producing quality reels that meet the precise requirements of the many industries we serve.
Superreel team looks forward to the future. We strive to work with new industries, create new technologies, and continue to bring quality products to customers.
Welcome to visit our factory
Hose reel factory in china