Superreel cabel and cord reels are heavy duty, industrial grade and designed for long lasting performance. Our knowledgeable sales staff is here to help you find the right Cord or Cable Reel to fit the job and at the right price to fit your budget.
Cable and cord storage reels and live power cable reels are available. Cable and cord storage reels are used for storage, unwinding, and winding of conductive cord/cable. Live power reels have sliprings that allow the reel to wind/unwind the cable/cord with current without twisting the wires.
OUR CAPABILITIES
● Ultra-high pressure and high current, the highest pressure of gas and liquid up to 80-100MPA. Taking advantage of the National New Energy Policy, the maximum current of the DC charging reel can reach to 500A.
● Super-long. Spring-driven reels can handle hoses or cables up to 50 meters. Motor-driven reels' capacity up to 3000 meters.
● Engineering reciprocation. One of the few domestic manufacturers that can produce reciprocating hose reels and multi-line hydraulic reels.
● Smart reels with intelligent functions. Limit, feedback, measurement, remote control, APP control, adaptive control and other functions are used in our reels.
● Hose and cable combined reels. One reel can manage/ transmit media including acousto-optic signals, various gas-liquid media, etc, at the same time.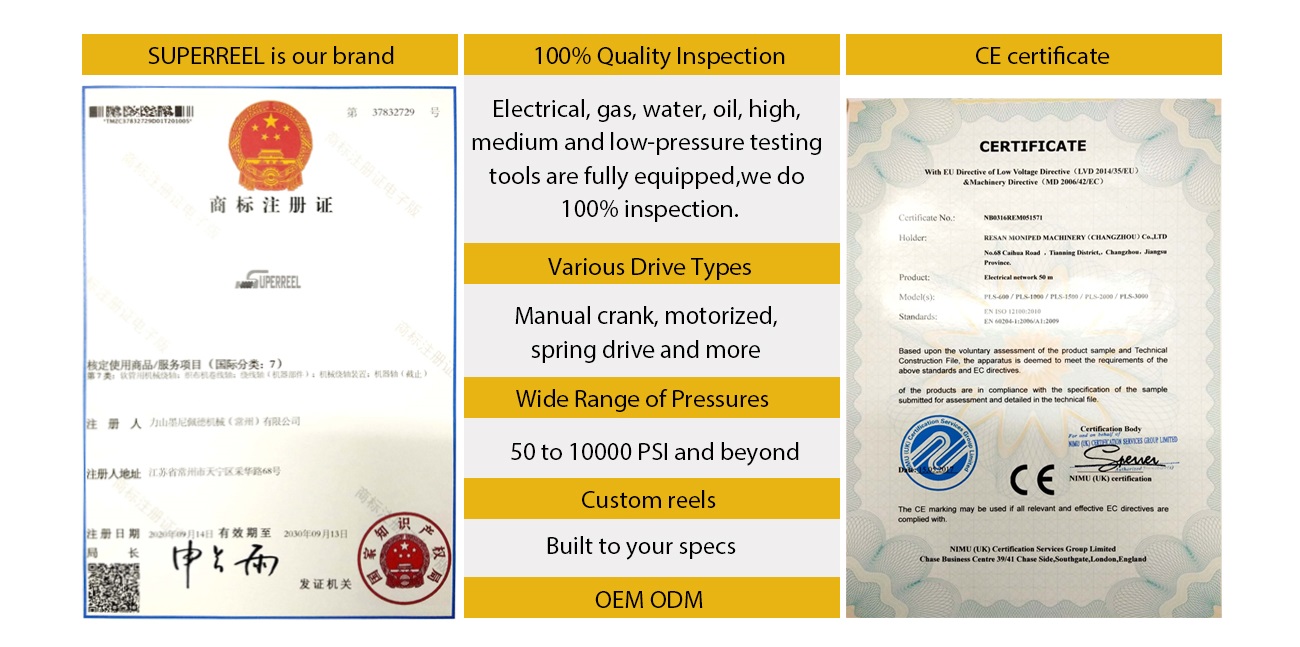 ●As a manufacturer of industrial and emergency response equipment, Superreel has you covered with the electric cord reel selection you need. Get the capability to have continuous power to your cord as it's deployed or retracted, and access power from hundreds of feet from your main source. Store and transport your electrical cords easily with a reel from Superreel.
●Self-retracting and motor-driven electric cord reels automatically wind extended cord back on the reel, while hand crank electric cord reels have a handle or knob for winding the cord manually.
●Electric cord reels can be mounted on a wall, ceiling, or workbench.